Much smaller companies can afford captives and use them today for a variety of reasons. This chart shows the key benefits:




Two primary reasons underlie the formation of all competently designed captive insurance companies as follows: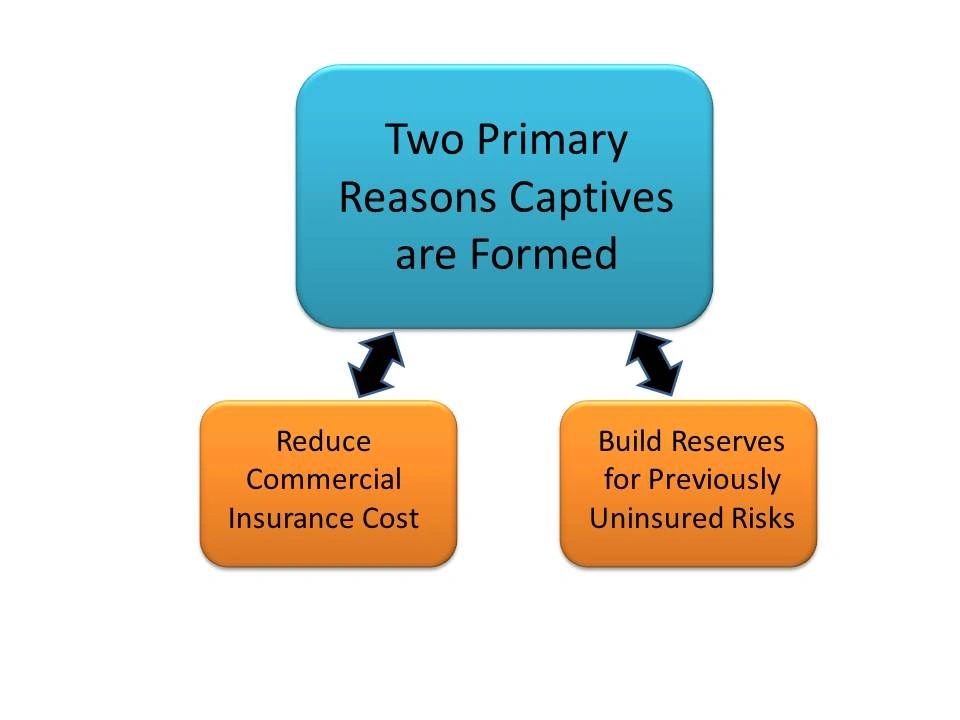 A more detailed discussion of the benefits include:
protecting assets (See our Wealth Protection page);

reducing and stabilizing commercial insurance costs;

formalizing deduction and self-insured retentions to accelerate loss reserve accumulation;

customize coverages - policy restrictions and exclusions keep tightening;

improve and control claim handling - claims handling services part of commercial insurers are not always efficient or fair;

group captives designed for specific industries are more widely available and cost effective as they bring efficiencies and loss control programs and expertise not available to most companies;

control of risk capital, increasing profits, improving cash flow, saving taxes and other benefits are attractive - you retain and invest loss reserves and can recover what otherwise would be unrelated insurance company profits;

asset protection, estate planning, business succession and wealth transfer planning benefits are all possible with well designed captive insurance companies for successful professionals and family businesses. Click here for more information.
Does a Captive Insurance Company Make Sense For You?
The decision to provide insurance through a captive is usually determined by:
The need to reduce insurance costs. Reduced costs are achieved by most captives by the purchase of reinsurance levels rather than direct coverage. A Captive insurance company avoids the high sales, marketing and administrative costs usually associated with commercial insurance companies.
The unavailability or unaffordability of desired insurance coverage. The necessity to insure risks not obtainable in the commercial insurance market, or only available at prohibitively high prices, has been the driving force of many organizations to form their own controlled captive insurance company.
Continuity of Insurance. Historically insurance companies have written coverage when profitable and stopped writing business when the exposure is too great. Captives can insure their own risk and assure continued affordable coverage with good loss management programs.
Need for customized professional insurance coverage. Many insurance companies market standardized policies, seldom drawn to suit your particular needs. The rating system used to assess premium levels are based on historical industry information. Premiums are naturally inflated for insured's with better than average claim and loss experiences. A captive can tailor policies to special circumstances - greater flexibility at reduced cost.
Attractive Attributes of Captive Insurance Companies
They can reduce the cost of financing all types of risk over continuing some combination of buying general marketplace commercial insurance policies;
They are better than self-insuring, especially given the low cost of participation in rent-a-captive and other advanced structures such as Series LLC captives;

They more efficiently cover self-insured retentions;

They can cover specialized risks that are unique and have no commercially available coverage; and,

They can provide a creative cost effective funding method to address risks above your existing policy limits.

They increase negotiation power with the commercial insurance market, which often adjusts insurance rates downward when faced with the prospect of losing business to a captive.
Captives Create Value - They Preserve, Protect and Grow Assets
Insurance companies are in business to make money. Insurance industry executives, and most of the insurance companies they run, make lots of money. If you are a large purchaser of insurance or self-insure substantial risks, you not only could save money owning your own captive insurance company, but designed and run correctly they could create a new profit center leveraging your industry expertise.
The Mystery Surrounding the Captive Insurance Industry is Unnecessary - Captive Insurance Companies are Simple to Understand
Captive insurance companies are only complex because they apply advanced and specialized legal, tax, accounting and finance expertise to design, create and manage. However they are easy to understand if you consider the following two examples:
Insurance Expense Related Example:

Assume your parents rarely if ever made a claim against their homeowner's insurance policy. Wouldn't you have preferred they paid all those premiums to a bank account earning interest for you instead of paying an insurance company? How about if they were safe drivers and had paid your bank account rather than all those auto premiums over the years? Add to this the scenario where your family ate healthy and exercised and rarely had medical expenses. What if all those health premiums were also in your bank account invested. Compound the potential value of this risk savings capital pool if pretax dollars and tax deferral on earnings were also achieved.

Business Competitiveness Example:
Imagine you owned a large fleet of delivery and service vehicles and trucks and were having them maintained and repaired by independent commercial repair shops. It is not hard to imagine that since you are such a large purchaser of these services, that you would save a lot of money by forming your own maintenance and repair company to service your fleets. Today nearly every owner of a large vehicle, truck, airplane or marine fleet have formed their own repair and maintenance divisions or they would be at a huge competitive disadvantage. And there may be financial reporting performance benefits beyond improved cash flow from creating your own repair and maintenance division or subsidiary. Captive insurance companies can offer similar benefits and more.
Moving Forward with the Analysis is Easy

Not having your own captive insurance company may be putting you at an unknown competitive disadvantage. Besides
owning a captive may have some surprising not so obvious benefits when designed and managed well.